Pictured Above: A Life Link helicopter team attended Discover Healthcare at The College of St. Scholastica in October 2022.
Following the success of two community-coordinated and business-led events in October 2022 and April 2023, a third Discover Healthcare event is in planning for November 2023.
Over 100 students from regional high schools attended the Discover Healthcare career exploration event at Northwood Technical College in Ashland, Wisconsin, on April 28, 2023. Through 23 hands-on activities, students had the opportunity to see what it's like to work in a variety of healthcare careers ranging from radiology to dentistry.
Pictured Above: Healthcare professionals shared first aid tactics at this booth for the Discover Healthcare event at Northwood Technical College in Ashland, Wisconsin, on April 28, 2023.
NORTHFORCE hosted the Ashland Discover Healthcare event in collaboration with a variety of partners including healthcare professionals from local and regional facilities, nonprofit organizations, and workforce development entities. Sponsors for the Ashland event were Essentia Health, Memorial Medical Center, and Northwood Technical College.
To help coordinate the event, NORTHFORCE worked with intern Jessica Polencheck (pictured at right), a student at Northwood Technical College's Ashland campus. In addition to many other tasks, Jessica handled event setup, surveys, and correspondence for attending healthcare professionals, vendors, schools, and volunteers.
In response to severe workforce shortages in the Northland, the purpose of Discover Healthcare is to allow attendees to explore career paths in high-demand fields. This innovative model for career exploration builds on the success of the Discover Healthcare open house which took place at The College of St. Scholastica on October 5, 2022. Focused exclusively on healthcare, it allowed students and community members to learn about high-paying careers available regionally.
The October Discover Healthcare event drew over 400 attendees and featured 26 activity booths, including a Life Link helicopter, a virtual reality station, and an ambulance for students to tour.
"The Discover Healthcare series is part of our ongoing efforts to connect candidates with local employers actively looking to make hires," said Ali Bilden Camps, Northspan consultant and NORTHFORCE program manager. "The experiential component adds a new dimension to the traditional career fair format. We're encouraged by results from the October and April events and excited to make use of this model again in the autumn."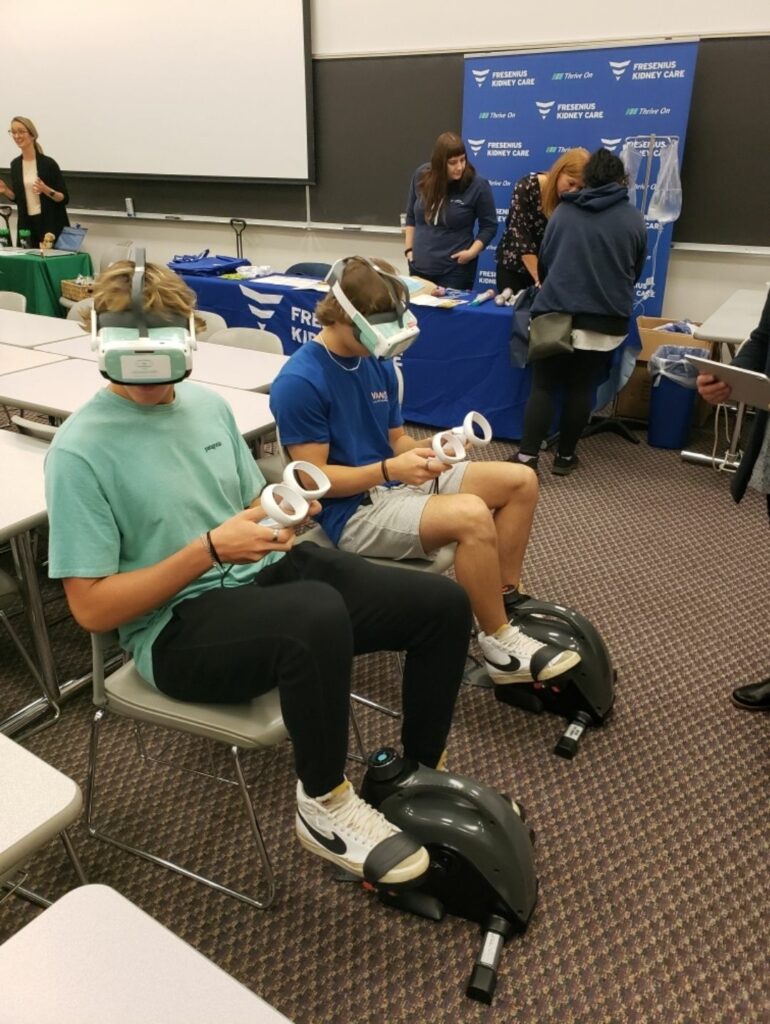 Pictured Above: Students explore various healthcare topics at booths and using virtual reality gear during Discover Healthcare at The College of St. Scholastica in October 2022.
The next Discover Healthcare event will take place in Hibbing, Minnesota, on November 2, 2023. Like the October 2022 and April 2023 events, Discover Healthcare will be open to attendance by community members as well as students. NORTHFORCE will announce further details and provide registration information closer to the event date.
For more information please contact: Northspan Consultant & NORTHFORCE Program Manager Ali Bilden Camps at 218-481-7737 or acamps@northspan.org.
###
NORTHFORCE is a community program powered by Northspan dedicated to supporting the current and future needs of candidates and employers in northeast Minnesota and northwest Wisconsin. Learn more at northforce.org.
Northspan is a nonprofit consulting firm based in Duluth. With a vision to engage and elevate, the Northspan mission is to be expert navigators, transforming ideas into accomplishments. Learn more at northspan.org.